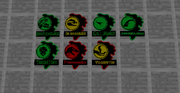 Paddock Signs are recommended - especially for park owners with many different species of dinosaur - so that keepers don't accidentally wander into the wrong enclosure and get mauled.
They are placed on the sides of blocks by right-clicking. When placed, you are given a choice of what species the sign should indicate. Left-click to detach it.
Ad blocker interference detected!
Wikia is a free-to-use site that makes money from advertising. We have a modified experience for viewers using ad blockers

Wikia is not accessible if you've made further modifications. Remove the custom ad blocker rule(s) and the page will load as expected.