The Low Security Fence is a type of electric fence introduced in update 2.1.0 of Jurassicraft. It is made of three components: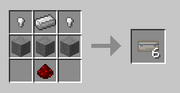 A Fence Base, crafted using 2 Iron Nuggets, 1 Iron Ingot, 3 Stone (Andesite, Diorite and Granite are also acceptible), and 1 Redstone dust.
A Low Security Fence Pole, crafted using 2 Iron Ingots and 1 Redstone dust.
Fence Wires, crafted using 6 Iron Ingots and 1 Redstone dust.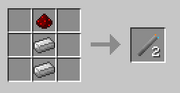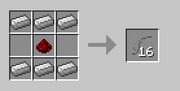 The fence can be powered by placing a Redstone block, Redstone torch or other Redstone signal underneath a Fence Base with a Fence Pole on top of it. This will power the fence in a block radius.
When powered, the warning lights on the fence poles will glow, and the fence wires will deal minor damage when touched.
If the fence is not powered, the wires can be climbed by players, Velociraptors and Microraptors.
Ad blocker interference detected!
Wikia is a free-to-use site that makes money from advertising. We have a modified experience for viewers using ad blockers

Wikia is not accessible if you've made further modifications. Remove the custom ad blocker rule(s) and the page will load as expected.