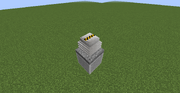 The feeder is composed of two sides, left and right. In the left side you can put any type of meat or fish to feed carnivorous dinosaurs, while in the right side, you can any type of vegetation (including the standard Minecraft crops) or plant bales, to feed herbivores.
You can place the feeders on the ground, but also sideways on walls, or upside down on the ceiling.
Ad blocker interference detected!
Wikia is a free-to-use site that makes money from advertising. We have a modified experience for viewers using ad blockers

Wikia is not accessible if you've made further modifications. Remove the custom ad blocker rule(s) and the page will load as expected.