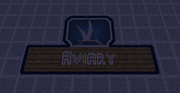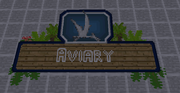 Park owners expecting guests may wish to build novelty rides and other attractions. If so, Attraction Signposts are useful for advertizing them.
Place an Attraction Signpost in a crafting grid to change its design (this is, among other things, how you get Attraction Signposts with Plants). Keep cycling through designs until you find the one you want. Like Paddock Signs, they are placed on the sides of blocks. However, note that Attraction Signposts are very large, so each one will need a very large flat wall.
Ad blocker interference detected!
Wikia is a free-to-use site that makes money from advertising. We have a modified experience for viewers using ad blockers

Wikia is not accessible if you've made further modifications. Remove the custom ad blocker rule(s) and the page will load as expected.